Skip to product information
Fennel
INFORMATION
Pot Size : 1L
Originating from the Mediterranean, Fennel (Foeniculum Vulgare) is a truly special species from the carrot family. This fennel plant has been embraced by many cultures around the world for its unique aromatic qualities and multitude of health benefits. Nutrient-rich, it contributes to the upkeep of both skin and respiratory health.
Adding Unique Flavours with the Fennel Herb
The fennel herb is a prized ingredient in various global cuisines, especially in flavouring candies, liqueurs, and a range of dishes, predominantly desserts. It is particularly celebrated for its flowers and stem, which emit a distinctive aniseed scent and taste. These characteristics make the fennel herb an excellent addition to salads and cooked dishes, where it pairs especially well with fish.

Height: 1.5 – 2.5 metres

Spread: 0.1 – 0.5 metres

Flowers: Yellow
The Joy of Growing Fennel

Growing fennel, be it in your indoor herb garden or outdoors, is a rewarding experience. Apart from its aesthetic appeal, with its bright yellow flowers and lush foliage, fennel is a hardy plant that is suitable even for those new to plant care.

Fennel thrives in containers if regularly trimmed, and can flourish both indoors and outdoors. This versatility is one of the many reasons why growing fennel has become popular among gardening enthusiasts.
Fennel Vs. Bronze Fennel: What's the Difference?
Fennel and Bronze Fennel are very similar, with the primary difference being the colour. Bronze Fennel stands out with a distinct brownish hue to its leaves and stems. However, both plants are equally hardy, making them a great choice for beginners and seasoned gardeners alike.

The unique flavour of fennel, with its hint of anise, works well with a variety of foods - from fish and salads to vegetables, meats, and soups. As a garnish, it can add the perfect finishing touch to your dish, enhancing both the visual appeal and taste. Invest in a fennel plant today and experience the joy of growing fennel and the versatility of this amazing herb in your cooking!

CARE
Soil: Moist, Well Drained
Light Conditions: Partially shaded
Frost Tolerance: Frost tolerant to -10
---
SKU: SU/SEASFENN0002 Tags: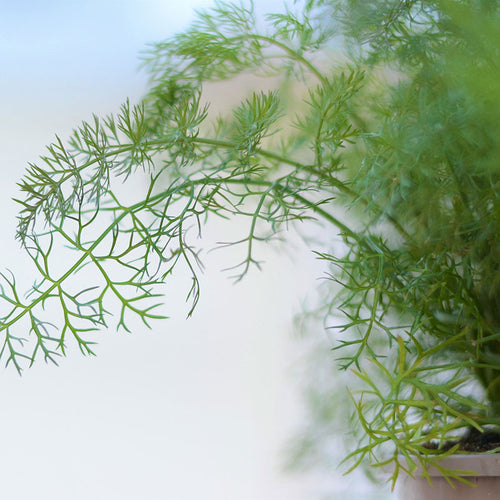 Regular price
Sale price
£6.00
Unit price
per
Sale
Sold out