Skip to product information
Sage
INFORMATION
Pot Size : 1L
Aromatic evergreen with bushy leaves with intense flavour.
ENJOY: Add to hearty dishes like sausage, cured meat, stuffing and pasta - mix with melted butter and serve over gnocchi!
Hardy perennial.
Height: 0.1 – 0.5 metres
Spread: 0.1 – 0.5 metres
Flowers: Blueish Purple
Choosing the right Sage plant for you
Sage is a highly versatile herb and here at Season we have grown three types that offer slightly different qualities.
The main difference being the colour of the leaves: classic Sage is light green, Purple Sage has a purple hue and Tricolour Sage provides a light dusting of pink as well as purple.
Earthy, minty, citrusy and a little musky, Sage works well to add flavour to meats and potatoes. Purple Sage has a rich savoury quality to it and can be added to soups and stews.
Finally, Tricolour Sage has a slightly more rosemary and pine taste. All varieties grow well in containers and can decorate your kitchen garden both indoors and outdoors.
CARE
Soil: Well Drained
Light Conditions: Sunny
Frost Tolerance: Frost tolerant to -5
---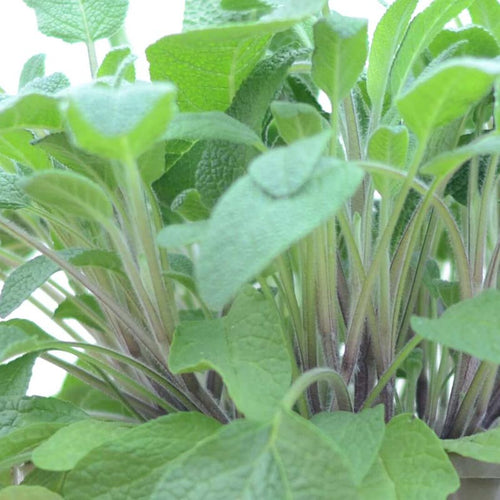 Regular price
Sale price
£6.00
Unit price
per
Sale
Sold out