Skip to product information
Basil
INFORMATION
Pot Size : 1L
Our UK-grown Basil herb plants (Ocimum Basilicum) are a culinary herb of the family Lamiaceae, native to tropical regions such as Central Africa and Southeast Asia. It is one of the most commonly used herbs in cuisines worldwide.
As much as the basil herb is a foundation of flavours for meals it also possesses many healthy attributes, containing anti-inflammatory properties that can be useful to the digestive system as well as other internal medical conditions.
How to grow Basil
This herb grows best in moist oil with at least six hours of sunlight, when the soil becomes dry water the plant at the base to avoid the leaves. 
Find out how to harvest and prune Basil in our guide
Basil herb sizing:
Height: 0.1 – 0.5 Metres
Spread: 0.1 – 0.5 Metres
Flowers: White or Pink
How to spot the difference in Basil plant varieties
You'll notice the difference between the two Basil plants from the leaves, Greek Basil has smaller leaves that grow into a circular bushy shape. In terms of maintenance, Basil can be a little more picky about lighting and overwatering. So, Greek Basil is considered a beginner friendly herb plant which also offers a sweeter, less peppery taste.
CARE
Soil: Well Drained
Light Conditions: Sunny
Frost Tolerance: Protect from frost
---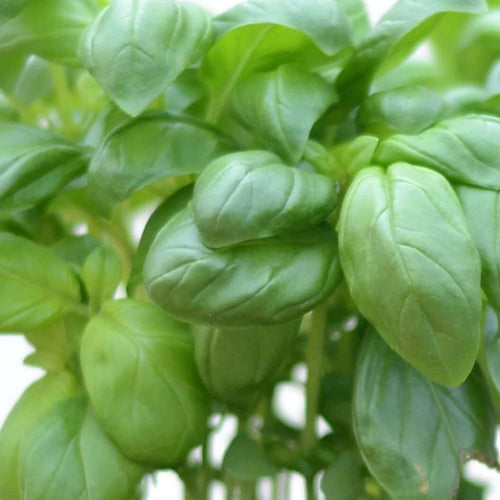 Regular price
Sale price
£6.00
Unit price
per
Sale
Sold out