Skip to product information
Greek Basil
INFORMATION
Pot Size : 1L
Greek Basil (Ocimum Basilicum Minimum), like many herbs, is a member of the mint family. Native to the Mediterranean, the Greek variety is known to grow profusely in Greece.
Basil can be used for medicinal purposes helping the digestive system, and the leaves can be chewed for a quick effect. In meals, Greek Basil is best used for sauces, bread, salads and dressing; with its aromatic flavour, it is a perfect accompaniment to many dishes.
To maintain well, the Greek Basil plant needs regular watering and pruning. Perfect for a sunny window or garden spot, it is a sunshine loving herb that can grow nicely in the UK if sheltered from harsh winds.
ENJOY: blitz with parmesan, lemon juice, pine nuts and garlic for classic pesto.
Height: 0.1 – 0.5 metres
Spread: 0.1 – 0.5 metres
Flowers: White or Pink
Greek Basil vs Normal Basil
The main difference between Greek Basil vs Normal Basil is from the leaves, Greek Basil plant has smaller leaves that grow into a circular bushy shape. In terms of maintenance, Basil can be a little picky about lighting and overwatering. So, Greek Basil plant is considered a beginner-friendly herb that offers a sweeter, less peppery taste.
CARE
Soil: Well Drained
Light Conditions: Sunny
Frost Tolerance: Frost tolerant to -10
---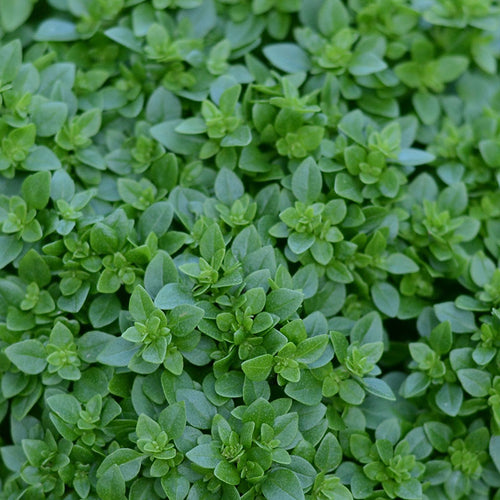 Regular price
Sale price
£6.00
Unit price
per
Sale
Sold out