Skip to product information
Bronze Fennel
INFORMATION
Pot Size : 1L
The Bronze Fennel plant (Faeniculum) is native perennial to the Mediterranean and likely spread throughout Europe through Roman legions. Originally eaten as a vegetable in Italy during the 17th century, the plant is now used for a variety of things including liqueurs, foods, flavour for sweets and most commonly for pastries. You can also make use of the oil from bronze fennel to protect stored fruits and vegetables. 
In order to grow a bronze fennel plant you'll need either a fairly large pot or a large area of soil because as the bulbs get bigger they'll need more soil around them to protect them from the sun - this is called "earthing up".
ENJOY: Seeds can be used in baking, pickles, curries; fronds can be used in salads, soups, roasted with meat & fish, infused for tea.
Height: 1.5 – 2.5 metres
Spread: 0.5 – 1 metres
Flowers: Yellow
What is the difference between Fennel and Bronze Fennel? 
Fennel and Bronze Fennel are very similar apart from the difference in colour. Bronze Fennel can be identified by the brownish hue to its leaves and steams. Both plants are very hardy and suitable for those who are new to plant care.
Bronze fennel plant care
Bronze fennel herbs thrive indoors, outdoors and can be grown in containers if trimmed. It loves to be in full sun and requires well-drained soil to grow successfully. While it's drought-tolerant once established, regular watering during dry periods helps it maintain health. Fertiliser isn't typically necessary, but a layer of compost can promote robust growth. Prune regularly to prevent it from becoming too tall and top-heavy. Be cautious of its self-seeding habit, which could lead to unwanted spreading in your garden. 
This herb offers a unique flavour with a hint of anise that works well with fish, salads, vegetables, meats and soups. It is also a nice garnish to add the final touch to your dish!
CARE
Soil: Well Drained
Light Conditions: Sunny
Frost Tolerance: Protect from frost
---
SKU: SU/SEASFENN0001 Tags: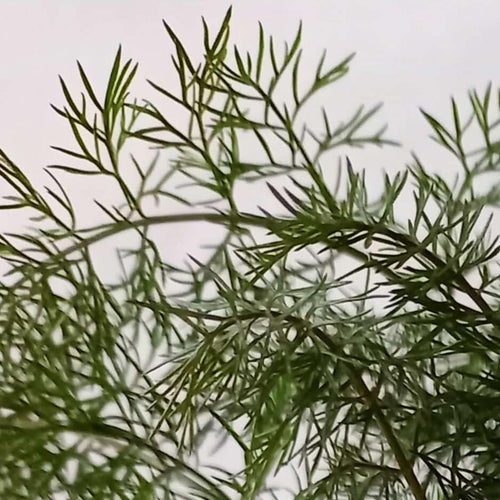 Regular price
Sale price
£6.00
Unit price
per
Sale
Sold out