Fennel with prawns, capers and cucumber
Time
Prep : 10 minutes
Cook : 20 minutes
Serves : 2
INGREDIENTS
About 10 large prawns, peeled and cooked
Handful fennel fronds
Handful of cucumber, cut into rounds
Baby leaf salad
Dressing
Extra virgin olive oil 3 tbsp
Lemon juice 1 tbsp
1 tsp Dijon mustard
Tbsp capers
ASSOCIATED PRODUCTS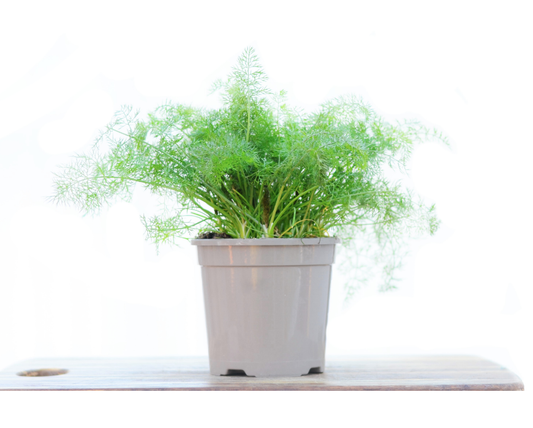 This prawn and fennel salad is packed full of zingy flavour and is a great summer dish for lunch or dinner.
It also works well as a side salad for BBQ's and picnics! Fennel and prawns are a match made in heaven and, as always, freshly cut fennel is recommended for this dish. 
When is fennel in season?
Fennel fronds are suitable for harvesting all year round. However, the general advice is picking young shoots in spring and summer will give the best flavour.
Buying pre-cooked prawns is recommended to keep this dish quick and easy! However, if you would like to use raw prawns, start by twisting and removing the head from the body. 
Remove the shell from the body, including the legs. Then, squeeze and pull the tail away from the body. 
Cut along the entire back of the prawn and remove the dark vein running from the head to the tail. The prawns can now be rinsed under cold water and are now ready for cooking. Remember to wash your hands after handling raw fish. 
In a pan, boil just enough water to cover the prawns. Once boiling, turn the heat down to a simmer and add the prawns. Cook for 3 minutes or until the prawns have turned pink. 
Once cooked, transfer the prawns into a bowl of cold water. 
Prepare the dressing by adding 3 tablespoons of extra virgin olive oil to a bowl. Add 1 tablespoon of lemon juice, 1 tablespoon of dijon mustard and 1 tablespoon of capers. Season with salt and pepper.
Add your cucumber, baby leaf salad and freshly harvested fennel fronds to the bowl. 
Mix all the ingredients together with the salad, prawns and dressing. Garnish with some fennel on the top of the salad. 
This fresh fennel salad with prawns will become a household favourite in no time. Why not try growing your own fennel at home? At Season we sell great quality herb plants and deliver them straight to your door. Growing your own kitchen garden has never been easier, try us today!
Related Recipes
ASSOCIATED PRODUCTS

Choosing a selection results in a full page refresh.