Skip to product information
Moroccan Mint
INFORMATION
Pot Size : 1L
The Moroccan Mint plant (Mentha Spicata var. Crispa) is a perennial with a sweet, clean mint flavour and tiny white flowers in summer.

ENJOY: Ideal for salads, pea dishes, potato dishes, mint tea and drinks (try it in a Mojito!).
Moroccan Mint Plant can be invasive - good for containers.
Height: 0.5 – 1 metres
Spread: 0.5 – 1 metres
Flowers: White
What are the differences in Mint plant varieties? 
Visually, some varieties of Season Mint plants look very similar to each other. However, they have been expertly grown to provide a unique taste and aroma for your kitchen garden. Find out more about each variety: 
With more jagged edges, this compact Mint plant has a much sweeter taste and can be used as a sugar replacement for food and drink. The Moroccan Mint plant is great for use in sweetening teas.
You can spot Apple Mint from its rounder leaves and slightly sweeter, less overpowering mint taste. This type doesn't grow well in full sun or wind, so it is good for growing indoors or in a sheltered spot in the garden. 
Mint grows very fast (even in partially shady areas) and is a favourite garden herb across Britain. Pop into a large pot with good drainage, and you will be treated to a plentiful crop that can be used for making ice cubes, as a garnish in drinks or as a salad ingredient. 
Known for its fresh peppermint flavour, this herb will fill your home or garden with an aroma that can ward off unwanted pests. The leaves have a slightly pointed shape and can be added to sweet teas or refreshing drinks.
Smaller than other varieties, growing out rather than up with slightly darker leaves. It gets its name due to its distinctive chocolate flavour, which is sometimes described as having notes of orange too.
CARE
Soil: Drought Tolerant
Light Conditions: Sunny
Frost Tolerance: Frost tolerant to -10
---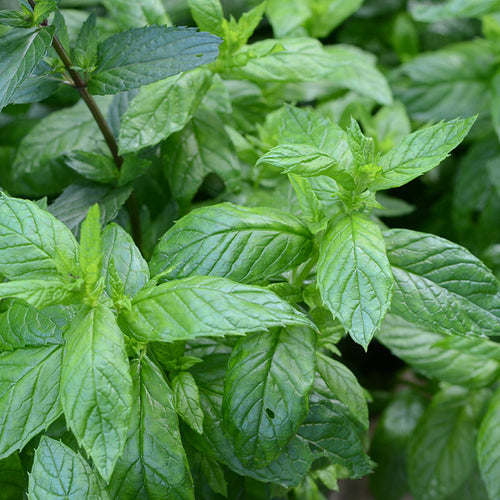 Regular price
Sale price
£6.00
Unit price
per
Sale
Sold out