Skip to product information
Apple Mint
INFORMATION
Pot Size : 1L
The Aromatic Wonders of the Apple Mint Plant
Apple Mint (Mentha Suaveolens), hailing from southern and western Europe, is a uniquely aromatic herb, renowned for its strong, apple-like scent. This apple mint plant features tiny, pale purple edible flowers that bloom from July to September, adding a hint of charm to your herb garden.
Unique Traits of the Apple Mint Plant


Compared to its cousin, spearmint, the apple mint plant boasts larger leaves and offers a more subtle and delicate taste. However, it requires specific conditions to thrive. It's less tolerant of hot weather and prefers to grow in an area sheltered from the wind.

Given its invasive nature, apple mint is best grown in a container. For optimal growth, this culinary herb requires partial sun and a moist, well-drained soil environment.

Height: 0.5 – 1 Metres

Spread: 1 – 1.5 Metres

Flowers: Pale Purple
Apple Mint Uses in the Kitchen
Apple mint is not just a visual and aromatic treat; it finds numerous culinary uses, particularly in fresh, uncooked preparations. It pairs wonderfully with cocktails or mocktails, serving as an aromatic garnish or adding a refreshing twist to popsicles and sorbets.

When combined with other spices, apple mint becomes the perfect ingredient for crafting delectable sauces for seafood, lamb, and other poultry dishes.

ENJOY: Great for infusions, mint sauce, desserts.
GROW: Full sun or partial shade. Moist, well-drained soil. Height: 1m, Spread: 1.5m. Can be invasive - best in containers. Hardy (-15°C to -10°C).
Discovering the World of Mint: From Apple Mint to Peppermint
While some varieties of mint might look similar, each offers a unique taste and aroma for your kitchen garden.

The apple mint plant, distinguished by its rounder leaves and slightly sweeter, less overpowering taste, doesn't fare well in full sun or wind. Hence, it's an excellent option for growing indoors or in a sheltered spot in your garden.

In contrast, regular mint grows rapidly and thrives even in partially shaded areas. It's a popular garden herb across Britain. When planted in a large pot with good drainage, mint rewards you with a plentiful crop.

Peppermint, another variety, is loved for its refreshing flavour, and its aroma can deter unwanted pests. Chocolate mint, smaller and darker than other types, is named for its distinctive chocolate flavour, with occasional hints of orange.

Finally, Moroccan mint, with its jagged edges and compact form, offers a sweeter taste and can serve as a natural sugar replacement in foods and drinks.
Caring for Your Apple Mint Plant
Soil: Well Drained

Light Conditions: Sunny

Frost Tolerance: Protect from frost

In conclusion, the apple mint plant is a remarkable addition to your herb garden or indoor plant collection. Its unique aroma, delicate flavour, and culinary uses make it a must-have for every home. Start your apple mint journey today!
CARE
Soil: Well Drained
Light Conditions: Sunny
Frost Tolerance: Protect from frost
---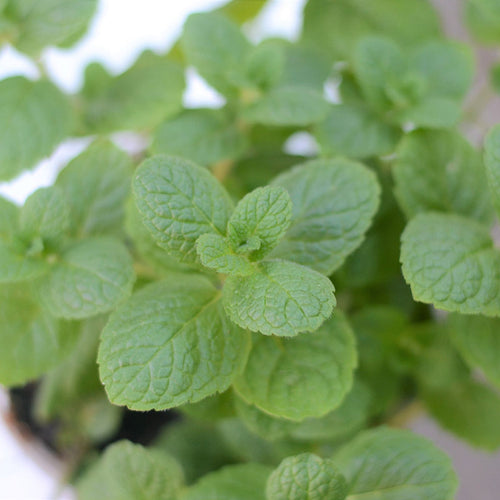 Regular price
Sale price
£6.00
Unit price
per
Sale
Sold out