Skip to product information
Lavender Melissa Lilac 2L
INFORMATION
Pot Size : 2L
Melissa Lilac Lavender (Lavandula angustifolia 'Melissa Lilac') has fragrant flower spikes and silvery-grey leaves. Grow in borders, along paths or clip into hedges. Attractive to bees and other pollinators.
Height: 0.5 – 1 metres
Spread: 0.1 – 0.5 metres
Flowers: Lilac
Common Lavender Varieties
Season offers nine varieties of Lavender in total, all professionally grown in our Sussex glasshouses to ensure you get the highest quality plant. However, what are the main differences between each type of Lavender? Here is a summary so you can choose the best plant for your kitchen garden:
The Melissa Lilac Lavender has light lilac colour with tiny flowers that bloom close together on the stem. Perfect to brighten up areas of your herb garden that do not get as much water. 
With long stems and a rich floral taste, Lavender Grosso grows spaciously and is great for filling empty spots in the garden. Its wonderful fragrance will attract lots of insects and pollinators. 
Lavender Hidcote has a distinctive flavour, like a floral blend between rosemary and mint. It grows faster than other varieties and can produce a plentiful crop for perfumes and drying. 
This French variety can be recognised by its unique bulb-shaped stems with light purple petals at the top. With light floral notes, this lavender works great for indoor growing. 
Munstead grows into a uniform shrub and makes a great choice for growing in sunny locations such as a balcony or window sill. It is also able to withstand less watering than other varieties. 
This variety stands out due to the pale pink colour of its buds and flowers. It is also very hardy and can withstand low temperatures and more extreme conditions. 
You'll recognise Lavender Folgate due to its deep and vibrant purple colours. A wonderful herb to cook with or to add to syrup, honey or jam. 
This variety has light leaves that follow the stems up the plant and is great for decorating your kitchen garden or for use in bouquet arrangements. It is compact and can grow in smaller spaces.
Striking deep purple buds and flowers that bloom for longer than any other variety (towards the end of the summer months). Great for attracting wildlife to the garden.
CARE
Soil: Moist, Well Drained
Light Conditions: Partially shaded
Frost Tolerance: Frost tolerant to -10
---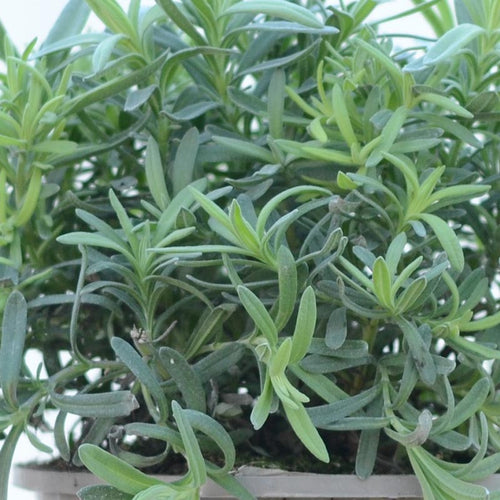 Regular price
Sale price
£10.00
Unit price
per
Sale
Sold out