Chicken Coriander Tagine with Almond Couscous
Time
Prep : 15 Minutes
Cook : 40 minutes
Serves : 4
INGREDIENTS
1 bunch spring onions, roughly chopped
2 preserved lemons, roughly chopped
2 cloves garlic
50g pitted green olives
1 pot coriander
1 tbsp oil
500g chicken breast, cut into chunks
200ml chicken stock
200g couscous
50g flaked almonds, toasted
ASSOCIATED PRODUCTS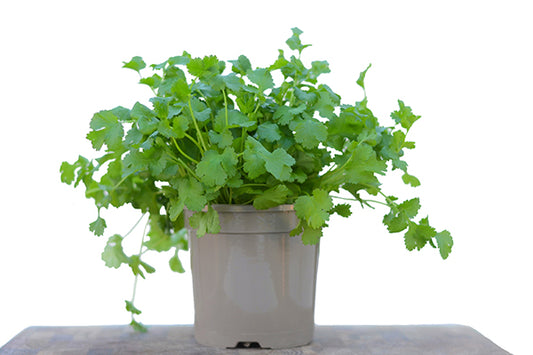 Is your tagine gathering dust somewhere? Try this delicious chicken coriander tagine recipe with almond couscous today.
The complimentary flavours infuse together perfectly in a tagine or even a casserole dish. The prep time is quick and easy, allowing you to get on with other tasks while it cooks in the oven. Great for busy mid-week mealtimes! We recommend using fresh coriander for this recipe to give you the best flavour. 
How to make chicken coriander tagine and almond couscous
Preheat the oven to 200°C or gas mark 6.
To make the paste, blitz the spring onions, lemons, garlic, olives and half the pot of coriander (leaves and stalks) in a food processor. Leave a few olives on the side to add in whole later.
Cut the chicken into chunks and fry over some oil in a pan for 3 to 4 minutes until brown. Then, add the paste and cook for a further minute.
Add 200ml of chicken stock and bring to the boil. Then transfer to a tagine or casserole dish with the remaining whole olives. Cover and bake for 40 minutes.
When there is 10 minutes left on the tagine. In a small bowl, add 200ml of boiling water to the couscous and cover with cling film. Leave the couscous for 5 minutes, then fluff up with a fork.
Roughly chop up the remaining coriander and mix 1 tablespoon with 50g of flaked almonds into the couscous. Add the rest of the coriander to the chicken sauce, then add the couscous to the tagine to serve.
Season herbs specialises in growing premium herb plants for you to grow at home. Whether you have a designated kitchen garden, a greenhouse or even some room on your windowsill. We want everyone to experience the feeling of harvesting their own herbs to cook with!
There are plenty more fresh herb recipes to choose from, take a look at our recipe section today for more inspiration.
Related Recipes
ASSOCIATED PRODUCTS

Choosing a selection results in a full page refresh.