Skip to product information
Green Ginger Rosemary
INFORMATION
Pot Size : 1L
Season's Green Ginger Rosemary plants pack a wonderful ginger aroma kick alongside the classic rosemary notes. A highly versatile kitchen garden herb, rosemary can be used in a wide variety of dishes from across the world. 
A hardy evergreen perennial with scented needle-like leaves that is originally native to the mediterranean region. Green Ginger Rosemary (Salvia Rosmarinus) can be finely chopped to add to sauces, stuffing or as a coating for dry ingredients. Larger sprigs of rosemary can be infused to flavour meats including chicken, lamb, pork and turkey.
With a fully grown height up to 1 metre diameter, a Green Ginger Rosemary plant will attract many bees and butterflies to your garden with its wonderful lilac blue flowers that bloom from April to July. This herb prefers a light soil with sunny but sheltered conditions.

ENJOY: great in syrups, cocktails, puddings and cakes.
GROW: Sheltered, full sun. Well drained sandy soil.
Flowers April - July. Hardy evergreen perennial.
Height: 0.5 – 1 metres
Spread: 0.5 – 1 metres
Flowers: Light Blue and White
What is the difference between our rosemary plants?
Rosemary is an essential herb to compliment your culinary garden and we have expertly grown three varieties to offer the best diversity to suit your needs.
Firstly, the most commonly known Rosemary grows to a wide spread with a low height and provides the classic taste that can be across a variety of dishes. In comparison, our Green Ginger Rosemary offers a strong hint of ginger to the taste of the herb. Finally, the Miss Jessop Rosemary variety can grow to a height up to 1.5 metres and has longer needle-like leaves that makes it perfect for harvesting.
It's easy to grow Rosemary at home, we've put together this helpful Rosemary growing guide to ensure you get the most out of your purchase with us.
CARE
Soil: Well Drained
Light Conditions: Sunny
Frost Tolerance: Frost tolerant to -10
---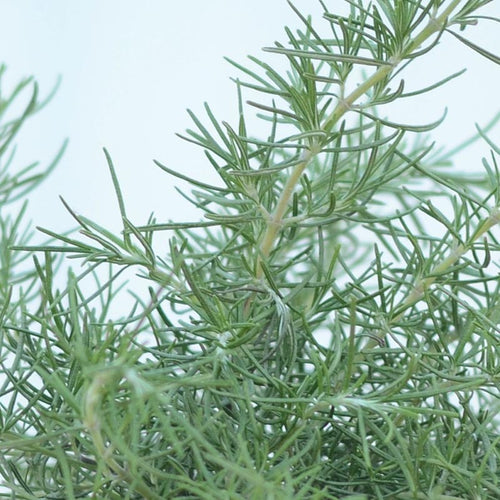 Regular price
Sale price
£6.00
Unit price
per
Sale
Sold out