Skip to product information
Garlic Chives
INFORMATION
Pot Size : 1L
The physical difference between the Chive and Garlic Chives plant (Allium Tuberosum) is that its leaves grow wider and flatter with a garlicky scent and taste. Also called Chinese Chives, because of being native to the Chinese province of Shanxi, it has become a popular plant used throughout Asia and worldwide. Maintaining Garlic Chives is easy; water when needed, as even though these plants are drought tolerant, they still need some moisture around their roots.

ENJOY: Chinese Chives' flowers can be eaten (try in salads) or used in the flat wide stems in cooking - great in Asian dishes - try in a stir fry!

Flowers late summer.
Height: 0.1 – 0.5 metres
Spread: 0.1 – 0.5 metres
Flowers: White
Chives vs Garlic Chives 

Visually, the two plants are very similar, but you will notice Garlic Chives have thinner blades. The main difference is potency and taste; Chinese Chives provide a strong garlic flavour, whereas normal Chives taste more like onion and pair well with vegetables, such as potatoes. 
CARE
Soil: Well Drained
Light Conditions: Sunny
Frost Tolerance: Frost tolerant to -10
---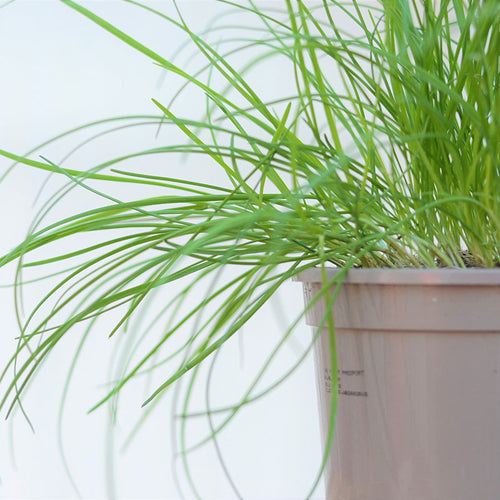 Regular price
Sale price
£6.00
Unit price
per
Sale
Sold out