Skip to product information
Flat Leaf Parsley
INFORMATION
Pot Size : 1L
Flat leaf parsley plants are a staple in any culinary kitchen. Only the leaves are most commonly used in cooking either chopped or added whole for garnish. Originating from Eastern Mediterranean, Parsley is now widely known for being applied to French and Italian dishes. Flat Leaf Parsley plants are very easy to maintain, keep the soil moist and empty the saucer under the pot once full so that the roots are well drained.
ENJOY: hugely versatile in cooking - try in salads, stews and Middle Eastern dishes.
Hardy biennial
Height: 0.1 – 0.5 metres
Spread: 0.1 – 0.5 metres
Flowers: Yellowish Green
Flat Leaf vs Curly Parsley, What is the Difference?
Flat Leaf vs Curly Parsley, Flat Leaf variety has a stronger flavour making it a great ingredient for many different cuisines. Curly Parsley is crunchier which provides a great texture for garnishes and decoration, it is also slightly more bitter and pairs well with fish.
How to grow flat leaf parsley
Caring for a flat leaf parsley plant involves several steps. The plant thrives in well-drained soil under full sun to partial shade. Ensure it gets enough water but avoid overwatering; the soil should be moist, not soggy. Fertilise with a balanced, slow-release fertilizer every 4-6 weeks during the growing season for optimal growth. Regularly harvest the outer stalks to encourage new growth and bushier plants. Keep an eye out for common pests like aphids and caterpillars, and diseases such as leaf spot. If the plant starts to flower (bolt), cut off the flower stalks to prolong leaf production. As a biennial, it typically completes its life cycle in two years. After the second year, you'll need to replace the plant as leaf production declines.
CARE
Soil: Well Drained
Light Conditions: Sunny
Frost Tolerance: Frost tolerant to -5
---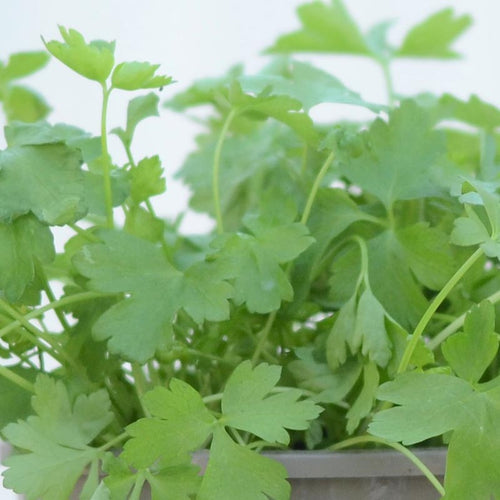 Regular price
Sale price
£6.00
Unit price
per
Sale
Sold out