How to Harvest and Prune Parsley
ASSOCIATED PRODUCTS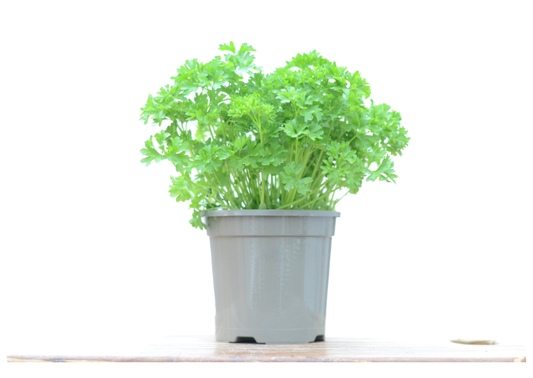 Once you've bought some of our decorative and delicious parsley, you'll want to know how to harvest it! That's why we've put together this step by step guide on how to properly prune and harvest your Parsley plants. Keep reading to learn exactly what you need to do to keep both you and your herbs happy.
How to Harvest Parsley
The first thing to remember is to remain calm and confident. Beginners might worry about hurting the plant but, if you follow this guide, then your Parsley will remain happy and healthy. In fact, taking a few cuttings will encourage new growth, so herbs actually enjoy a trim.
Next, find a pair of clean scissors, either a regular pair or ones designed for herb trimming. You'll want to make sure that the tool you use is washed beforehand, as this will ensure that your herbs stay healthy, especially if the same scissors are used for all of your plants.
Now you need to know where to cut. When it comes to Parsley, you can start with the outer leaves and go down the stem until it's at least one inch above the soil. Picking the outer leaves means that the new growth at the centre of the plant will grow faster, so it's best to only take what you need from round the edges of the plant.
To make sure your herb stays strong, aim to never cut away more than 20% of the total plant. You'll be able to get a larger harvest as the Parsley grows in size, and it's a biennial herb too, which means it should grow again next year as well.
Last but not least, enjoy! And, we have recipes that you can check out to get the most out of your Parsley and other herbs.
How to Harvest Flat Leaf Parsley
For some bonus advice we've included things to know about pruning or harvesting your Flat Leaf Parsley too!
This variety of Parsley is different in its appearance, though it's harvested the same way. However, one thing you should know is that Flat Leaf has more flavour than the more decorative Curly Parsley, meaning it's tastier as an ingredient in many dishes.
To learn about the other herbs and varieties you'll need to prune, stick with us. We'll tell you everything you need to know about harvesting all your SEASON herbs!
Related News
ASSOCIATED PRODUCTS

Choosing a selection results in a full page refresh.