Herb of the Month : Coriander
ASSOCIATED PRODUCTS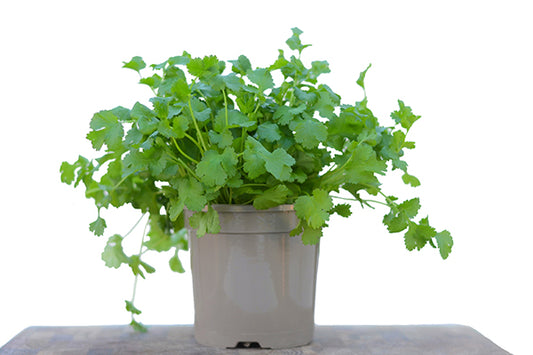 TAGS
Herb of the Month
Growing Coriander is easier than you may think, but we've gathered some information here to help get you started if you're new to growing or cooking Coriander.


What is it?
Coriander is a soft leafy herb that is known by a few names, like Cilantro and Chinese Parsley. It is frequently used in International cuisines and as a garnish. It is part of the same family as parsley, carrots, and celery but has a very distinctive taste. Because of genetics some people like Coriander, whilst others think it tastes like soap, which is why it is such a marmite herb, you either love it or loathe it.
What does it look like and how to use it?
Coriander is a green herb with long stalks and flat leaves and, whilst similar to Parsley, it's leaves are rounded instead of pointed, with a very distinctive smell. You can cook the leaves and stems into your favourite curries and sauces. If you want to keep Coriander for longer, you can freeze it for up to 4 months. For more recipe inspiration head over to the Season recipe page.
How and when does Coriander grow?
Coriander grows in the UK during the summer season, from March to August. It is not a hardy plant and does not like the cold, so needs protection from frost to survive the winter. The best thing you can do for a Coriander plant is to make sure the soil does not dry up to make sure you get all the tasty leaves.
Coriander's Origins and where to buy it from today?
Coriander originally comes from the Mediterranean and Middle East and is one of the oldest herbs to be used on the planet. Traditionally it has been used for a very long time to help with digestive ailments. Coriander can be grown from seed but for a ready to eat plant, head over to the SEASON shop where you'll find it in a 1L pot ready for your windowsill. 
Related News
ASSOCIATED PRODUCTS

Choosing a selection results in a full page refresh.